Thanks for taking the time to read my blog. :) I'm new to blogging, so please bear with me. This will be a mostly knitting blog... because I don't have a whole lot of time to knit and I'm a slow knitter. Gotta fill up the space somehow. The name will explain itself; I'm addicted to yarn. I love to buy it and pretend I'm going to make something great with all of this free time I don't have. I've been knitting since my senior year of high school (2002-2003) and recently (November-ish 2006) started making more than Garter Stitch scarves. I have a wall of scarves that I've made. I'll post a pic eventually, I'm lazy. So far besides scarves I've made two hats, fingerless mitts, a mouse, and a baby blanket for my boyfriend's nephew.
Right now I'm working on a blanket (afghan?) for my boyfriend. I'll post pics as it gets larger, and probably the pattern if I ever finish writing it up. The chart is done, but the instructions are not. Remember, I'm lazy. :)
Here are some finished things I've made... with descriptions as best as I can remember.
Boyfriend Mitts:
These are my own pattern. I made them with Sensations Licorice yarn in black. It's 100% wool. I'll try to get a pic of him wearing them so you can see the size properly. They're huge. Massive. My hands are lost in these babies.
If you want the pattern for these, I'll be happy to write it up. It's super simple.
Mitts for my sister:
I used Sensations Licorice yarn in red and the pattern from Speed Knitting by Kris Percival. They're really snug and comfy! I originally made them for me, but noticed that the yellow perfectly matched the scarf I'd made for her. The thumbs are in a neat pattern that you can't see from the pic. Maybe I'll get an action shot of these, too... She's just as lazy as I am though. :)
Stuff for my grandma:
I knit my grandma a hat on the Knifty Knitter round looms that I got for Christmas. It stretched. So I made her another one. She said the spaces were too big, so she double up on the hats. I mader her this hat with the pattern for Hot Head from SNBN. It was really easy and gave me some seaming practice. Now she only wears this hat. I made it with LionBrand Homespun in Caribbean. I still have some left, maybe for a panta or calorimetry or something. It's really soft and warm.
I also made her a Valentine's Day Love cloth from
http://www.knittingknonsense.com/LOVEcloth.html
She liked it. It was a fast knit with so many possiblities to it. I might knit up some more in different colors and yarns and make pillows. I used... Bernat Super Saver in red... yes it's acrylic... yes I was too lazy to go buy cotton yarn. She's not going to use it as a washcloth anyways. :D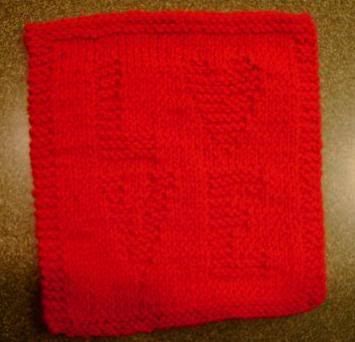 And now... some crap I made for me.
This is Herman.
Herman is a stuffed mouse cat toy minus the catnip. It was my first attempt at increasing/decreasing/seaming/simple embroidery/i-cord. Whew. I decided that he would be mine. He now lives in a little knit bag. :)
These are my very first mitts. I got the pattern from a 365 pattern a day callender, but you can get the pattern from
http://earthheartdesigns.com/Earth%20Heart%20pages/Patterns/All%20Patterns/ribbed_wristers_&_driving_mitts_&_neck_gaiter.htm
I was dumb. I was naive. I didn't know my yarns. The pattern calls for sport yarn, I used worsted. Nonetheless, I love them and they keep my hands warm when I drive/smoke.
Anyone know how to take decent pics of black yarn? Everything I tried made them look like solid black, you can't see the ribbing in these at all. PS: Those are my bedroom walls. Hand stamped by my sister, my high school friend, and myself. White walls with rainbow handprints. I love it.
Anyways, I'll probably work on my Kureyon mitts tonight. I want to finish them before it's warm. The blanket can be done when I say it's done. :D
Here's a sneak peek of the blanket: