So my first personal swap is officially completed. :) I swapped with Jaye (from craftster). It was awesome cuz she's from Australia. :D
Here is what I sent: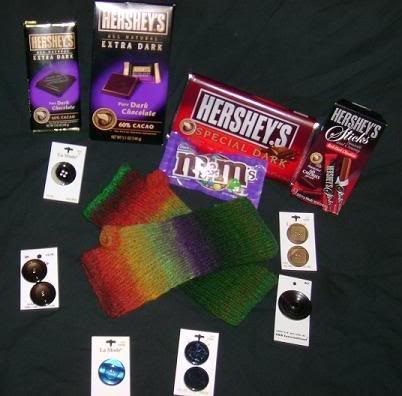 Lots and lots and lots of Hershey's dark chocolate... Bars, pieces, sticks, and M&M's... Lots of buttons. My favorite are the blue ones on the bottom right. They're dark blue with light blue opalish snowflakes on them... but you can't see the snowflakes from the pics that i took. :( Last but not least... My kureyon mitts. :) (don't worry, I bought more Noro and I have allllll summer to knit more.) :D
Here is what I got:
The cutest pair of earrings (I thought I had good pics of everything... pffft. Teaches me to think.). A whoppee cushion that will be making mischief. A chocolate bunny puzzle. :) Look at the pretty pretty wool! I cannot WAIT to spin it!!!!!! It's so soft! I love the purple and the blue. I'm going to dye the white (though I have no idea what color yet), but I think I may leave the grey... I kinda like it natural. I can't wait to open the Timtams... though I'm afraid to... My dad has already started eyeing them up. He was in the Navy and I guess hasn't had them for a very long time... I suppose I can share. :) And last but not least, an amazing felted necklace. :) It's got the prettiest colors and it's just so cute!
All in all a VERY successful first swap and I can't wait to participate in more. :)